Hosting Coupons and Discounts
Redeem special hosting coupons and save yourself $$$$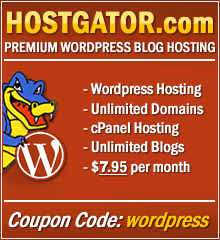 While selecting the host you want to use, keep in mind that we work hard to give you discounts and coupons to reduce the cost of hosting!
Browse through and find easy to redeem coupons which save you money!
HostGator Hosting Coupons
HGNEWS11 - Save 20% on your next hosting plan or order with HostGator.
JURY - Get hosting for just 1 cent!
Godaddy Hosting Coupons
BTPS7 - 20% any order of $50 or more
OYH2 - $5 off a $30 purchase
OYH3 - $2.50 off / $7.45 any .COM